These pages are to provide the information that may be useful for organisers and their congregations to provide for the preparation and delivery of a fulfilling service.
---
Artwork
Click on the following file to download the image. This will open the image in your browser, right click on the browser image which will give the option to [save as….] on your computer or device.
---
About the Art & Artist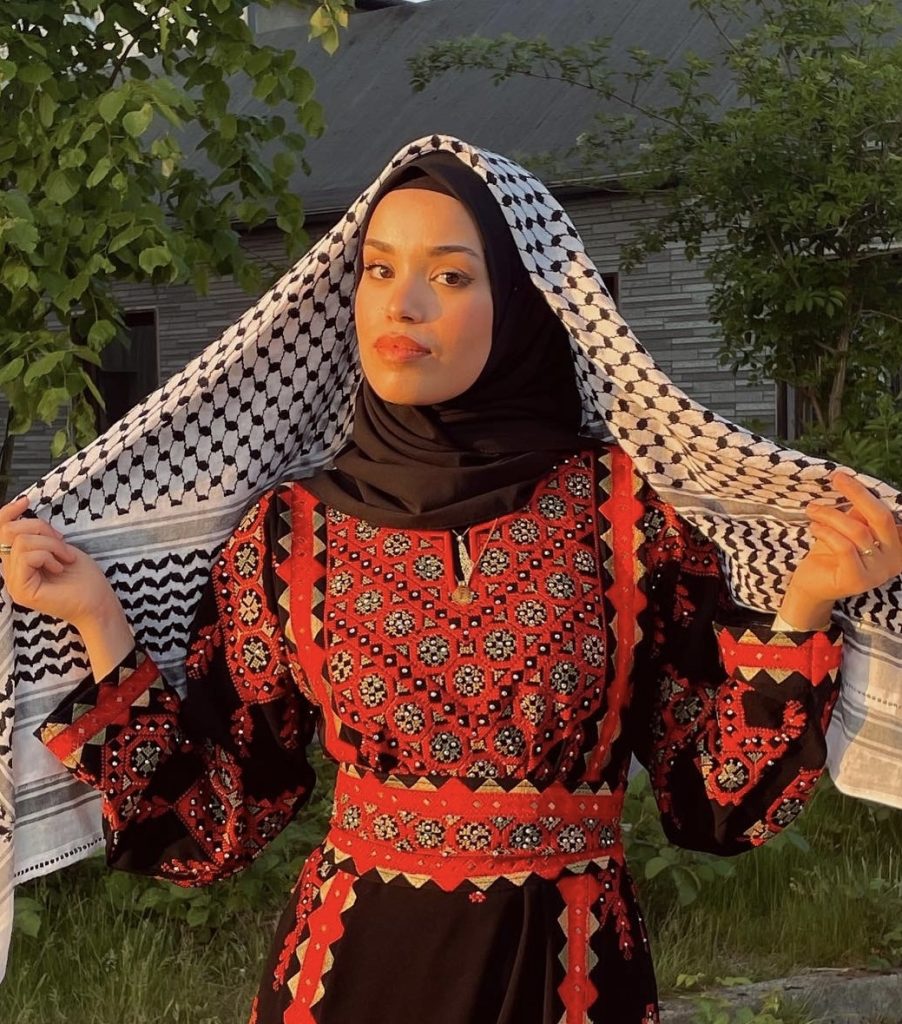 Halima Aziz (b.1999 in Hagen, Germany) is a passionate Palestinian visual artist and design student based in Germany. She spent her childhood in Palestine. Halima experienced the war in Gaza in 2008 and survived it. In 2009 she moved back to Germany.
This artwork is made in honor of the World Day of Prayer. Through her artwork, Halima represents three Palestinian women praying together in nature in a peaceful place. In her work, she has different motives and symbols that indicate the origin of these women and their cohesion​.
Olive trees/ branches are a sign of everlasting and abundant life because they can live for thousands of years.
The golden roots are underlining the fact that the Palestinians will always exist and as they exist, they will always resist for their rights and freedom. Poppy flowers are abundant and meaningful to Palestinians. They remind Palestinians of loved ones who have given their lives for their country.
The women are wearing traditional Palestinian dresses like the tatreez (embroidery) thobe (dress) or the white scarf. And the keys are a symbol of the hope to return back to Palestine.
Copyright
Copyright © 2023 World Day of Prayer International Committee, Inc.
"I beg you, bear with one another in love" was prepared by the World Day of Prayer
Committee of Palestine for the worship service and educational activities for the 2024 World
Day of Prayer (WDP) annual celebration. WDP materials are developed for the exclusive use
of WDP programs organized by national or local committees and their partner organizations.
For any other use, materials from the WDP 2024 Resource Packet may not be reproduced
without the permission of World Day of Prayer International Committee (WDPIC).
Limited reproduction rights granted—Bible study, Worship Service, Country Background,
Children's Program, Artwork and Artist Statement, WDP composed songs and photos may be
reproduced—printed or electronically—for WDP activities with congregations and groups, if
appropriate credit is given. WDP National/Regional Committees are permitted to resell
reproductions of the resources for the purposes of the WDP program with permission.
The songs suggested for the worship service and children's program include copyrighted
information from the publishers. Permission to reproduce or translate the copyrighted songs
was given only for the use of WDP Palestine 2024.
Only WDP National/Regional Committees connected with WDPIC can make the resource
packet or sections of the materials available online. Committees that make materials
available online must ensure groups and individuals who access the online materials are
accountable to the committee.
Any offerings or funds collected related to WDP activities must be reported to WDP
committees.
Scripture quotations are from the New Revised Standard Version of the Bible, copyright ©
1989 by the Division of Christian Education of the National Council of Churches of Christ in
the U.S.A. and are used by permission. All rights reserved.
For further information, please, contact:
World Day of Prayer International Committee
475 Riverside Drive Room 729
New York, NY. 10115. USA
admin@worlddayofprayer.net – http://worlddayofprayer.net
To clarify, there is no restriction about where WDP activities happen, and many countries do
the children's program in Sunday schools, if a community decides to utilize the materials, to
please inform the committee about their activities. If the materials need be reproduced,
credit must be given to WDPIC or naming that the materials come from WDPIC.