LIST OF MATERIALS AVAILABLE
Invitation
A4 Posters and press release
Information leaflet for Young People
Order of Service (Bible Study and information about the writing country included) also in Braille, Large print and Shortened Order of Service
Participants Preparation
Children's Service, Leaders Notes and Activity Sheets
Meditation Sheet
Calendars, Notelets, Bookmarks
World day of Prayer Badge and pendant also available to order
Coming Soon
Pre-recorded service (on CD)
Music from the writing country (on CD)
Theme music for Palestine; "I beg you to bear with one another in love"
PowerPoint presentation of Slides giving the Country Background on CD
Scottish Bible Society leaflet and A4 Poster
Feed the Minds leaflet and A4 Poster
---
Generally the materials listed above can be found on the Download Page otherwise and for the following materials please request the ORDER FORM on the "Orders" page, from and return it to the Secretary
---
| Description | Price | Pack |
| --- | --- | --- |
| Calendar | – | 1 |
| Order of Service on CD | – | 1 |
| Music from the writing country on CD | – | 1 |
| Powerpoint of slides on CD | – | 1 |
| Theme Notelets | – | 6 |
| Bookmarks | – | 1 |
| Badge and or Pendant to be ordered directly from Secretary | – | – |
These items must be paid with the order, the value cannot be deducted from the offering.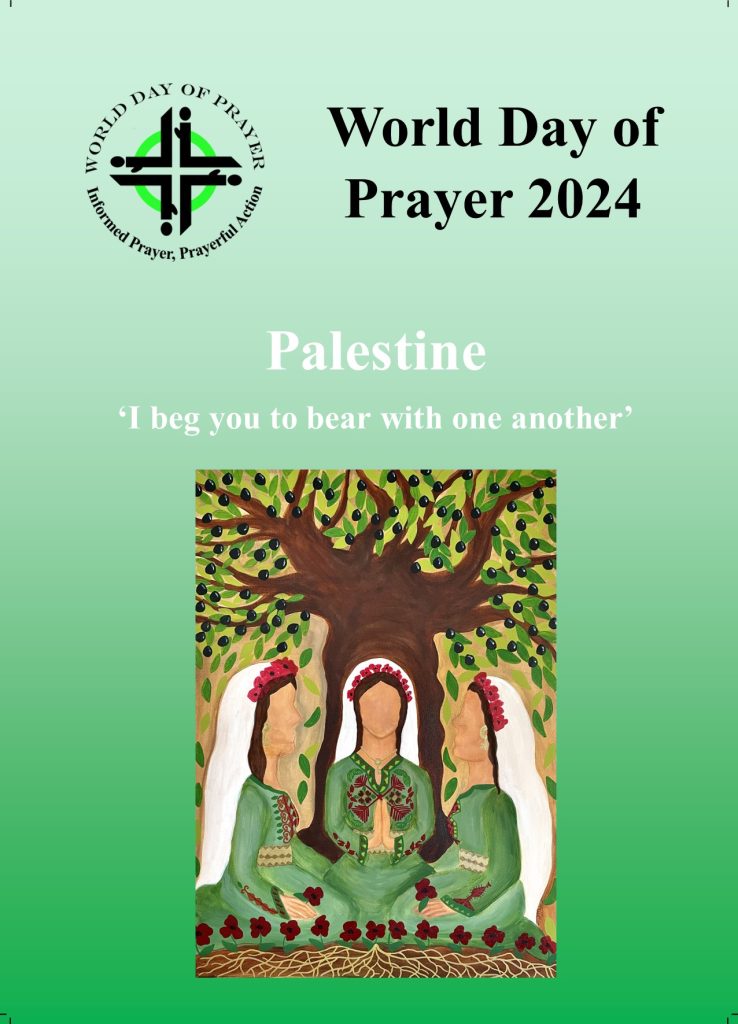 World Day of Prayer Calendar (January 2024 to February 2025) is available for £5. (inc. p&p).

Each month has a picture from Palestine with a prayer/scripture verse and a slot for each day to help you keep track of your engagements.

Use the Calendar to remind you to continue praying for Palestine throughout the year.